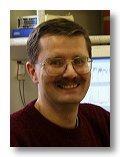 Doc. RNDr. Peter Mojzeš, CSc.
Born: Dec. 5, 1960, Lipany nad Torysou (Slovensko)
Affiliation: Fyzikální ústav UK, Ke Karlovu 5
Room: F 186, 1st basement
Phone: +420 221 911 471
Fax: +420 224 922 797
---
Fields of interest and research experience:
Study of structure of biomolecules, macromolecules (nucleic acids, proteins and porphyrins) and their complexes by methods of optical spectroscopy.
Knowledge of optical spectroscopy methods [electron and vibrational (IR and Raman), special techniques in Raman spectroscopy – resonance Raman spectroscopy, surface enhanced Raman scattering (SERS)].
Experience with building of optical and spectroscopic experiments for research and applied applications.
Optical pyrometry.
---
Long term stays:
| | |
| --- | --- |
| 1998 | one month residency in the Institute for Molecular Sciences, Okazaki, Japan (Prof. Teizo Kitagawa): Study of acido–base transitions of porphyrins by means of RRS. |
| 1997 | one month residency in the Institute for Molecular Sciences, Okazaki, Japan (Prof. Teizo Kitagawa): Study of acido–base transitions of porphyrins by means of RRS. |
| 1994‐95 | one year postdoc residency in the Institut Curie a Université P. & M. Curie, Paris, France (Prof. Pierre–Yves Turpin): Study of hypochromism of some cationic porphyrins by means of resonance Raman spectroscopy. |
| 1993 | residency in the Institut Curie a Université P. & M. Curie, Paris, France (Prof. Pierre–Yves Turpin): Project TEMPUS JEP 2327. SERS of porphyrin-DNA complexes. |
| 1992 | residency in the Institut Curie a Université P. & M. Curie, Paris, France (Prof. Pierre–Yves Turpin): Study of exciplex structure porphyrin–DNA. |
| 1990‐91 | one year postdoc residency in the Institut Curie a Université P. & M. Curie, Paris, France (prof. Pierre–Yves Turpin): Resonance Raman spectroscopy of nucleic acids and their components. Study of exciplex structure porphyrin–DNA. |
| 1989 | one month residency in the Semjakin Institute of Bioorganical Chemistry, Moscow, Russia (Prof. Igor Nabiev): Resonance Raman spectroscopy of conformational transitions of nucleic acids. |
| 1985‐86 | six month postdoc residency in the Institute of Experimental Physics of the Slovak Academy of Sciences, Kosice, Slovakia (Dr. Pavol Miskovsky): Study of conformational transitions of nucleic acids by means of Raman spectroscopy. |
---
Curiculum vitae:
| | |
| --- | --- |
| 1995 | Thesis: Study of nucleic acids interactions with some cations by means of Raman spectroscopy. |
| 1987‐91 | doctoral study, Department of Mathematics and Physics of the Charles University; biophysical branch, tutor RNDr. Josef Stepanek, CSc. |
| 1985 | RNDr. (MSc.) in branch of biophysics and chemical physics. |
| 1980‐85 | Department of Mathematics and Physics of the Charles University; biophysical branch. |
| | |
| --- | --- |
| 1997‐ | Fellow, the Institute of Physics of the Charles University, Prague. |
| 1996‐97 | Separate scientific worker, the Institute of Physics of the Charles University, Prague. |
| 1995‐96 | Scientific worker, the Institute of Physics of the Charles University, Prague. |
| 1992‐95 | Vacantional worker, the Institute of Physics of the Charles University, Prague. |
---