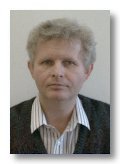 Prof. RNDr. Josef Štěpánek, CSc.
Born: Oct. 3, 1951, Praha
Affiliation: Fyzikální ústav UK, Ke Karlovu 5
Room: F 265, 2nd floor
Phone: +420 221 911 345
Fax: +420 224 922 797
---
Fields of interest and research experience:
Study of biomolecules by methods of optical spectroscopy: analysis of vibrational stages of nucleic acids, study of interactions of nucleic acids with heavy metals, testing of new nucleic acids analogues with potential chemotherapeutical importance, electronic and vibrational stages of porphyrins and their interactions with nucleic acids.
Methodical development in field of measurement and data analysis in Raman and absorption spectroscopy, application of statistical methods to get physico–chemical properties of studied molecular complexes from spectroscopical data.
Development of optical measuring systems.
Teaching courses concerning to optics and optical spectroscopy. Co-ordination of teaching in biophysics.
---
Long term stays:
| | |
| --- | --- |
| 2006 | BioMoCeTi, Université Paris VI |
| 2005 | BioMoCeTi, Université Paris XIII |
| 2004 | Université Paris VII |
| 1999 | Laboratoire de Physicochimie Biomoléculaire et Cellulaire, Université Paris VI |
| 1993 | Department of Physical Chemistry, University Stockholm (prof. Kowalewski) |
| 1983 | Hasylab, DESY, Hamburk (prof. Kunz) |
| 1981 | Department of Wave Processes (prof. S. A. Akhmanov) and Department of Biophysics (prof. Y. S. Pastchenko), Moscow State University |
---